Our Vision...
to help lower the divorce rate in our communities by preparing, strengthening and restoring marriages.
Our Mission...
to promote, in all communities the signing of a marriage policy or covenant, to promote marriage enrichment education, and create a network of mentor couples that will teach relationship, communication and conflict resolution skills in their respective communities.
Marriage Builders Resource Center will help you to create a safety net in your communities by training Mentor Couples to help other couples:
Avoid bad marriages before they begin
Give "marriage insurance" to the engaged
Strengthen your existing marriage
Restore even the most troubled marriages
Reconcile half of separated couples
Enable stepfamilies to be successful


Marriage Builders is a member
of the Community Mobilization Team of The Marriage CoMission,
a marriage strengthening initiative, in partnership with Chick-fil-A Restaurants (2006 - to present).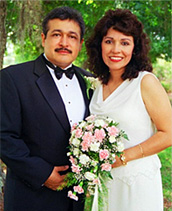 Jim Campana, CDFA &
Marlene Campana, MBA, MA
Co-Executive Directors



Marriage Builders Resource Center, Inc.
We are a non-profit, faith-based agency and affiliate of the national Marriage Savers organization founded in 1996
by Michael and Harriet McManus. Marriage Savers® has been profiled on NBC, CBS, ABC, the Oprah Winfrey Show, two PBS specials in 2002, and were on Focus on the Family in May of 2004.